Two's Company is the fifty-ninth episode in Series 2 of Shaun the Sheep. It was aired in December 17 2009.
Two's Company
    Basic Information
Series
Broadcast number

59

Written by

Lee Pressman

     Episode Guide
Shaun is smitten when a bedraggled new sheep called Lola lands among the flock. After a wash in the sheep dip, the newcomer turns out to be quite attractive and Shaun immediately falls the head over hoof for her. While Bitzer goes to find her rightful owner, the flock are kept amused by Shaun's romantic antics.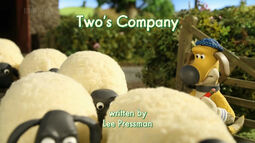 Characters
Edit
Timmy, Timmy's Mum, and Shirley did not appear in this episode.
It is unknown where Lola was used to live in her owner's farm.