Shaun the Sheep and The Flock appeared in Wallace and Gromit in Google-Hangout Aardman Animations stop motion short cartoon with Wallace and Gromit, Ginger from Chicken Run, Trixie and Captian Cuddlepuss from Creature Comforts, Fluffies and Piella and two Aardman bird stars. Shaun and other Aardman Stopmotion animations apeard in this Christmas Holliday Short Film for Family Christmas Commircale.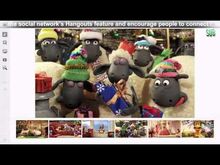 Ad blocker interference detected!
Wikia is a free-to-use site that makes money from advertising. We have a modified experience for viewers using ad blockers

Wikia is not accessible if you've made further modifications. Remove the custom ad blocker rule(s) and the page will load as expected.